In PRO series we can choose between mZD 40-150 to which a converter can be fitted, and mZD 300mm PRO. Now the situation has changed because Micro Zuiko Digital ED 150 – 400 mm f/4.5 TC 1.25x IS PRO has appeared – new lens with a very sophisticated optical quality and variable focal length. It is obvious that from the viewpoint of a photographer this is a very good solution – we can have long focal length lens but variable at the same time. There it is at last. I can show the lens and I can tell you something about it. If we look for long focal length lens the choice is not an issue.
Previously if we needed long length there has been only mZD 300 PRO, possibly expanded of a converter. But the basic disadvantage of this solution is constant focus. I have had dozens or hundreds of situations when fixed focal length lens limited me. I couldn't move when taking a picture of an animal still wanted to take a wider or a narrower frame. I'm sure anybody who was photographing from the hideout knows perfectly what I'm talking about.
I've had countless situations when an animal approached too close for my lens so the camera could see only a part of this animal when I wanted to catch a little bit more than an eye or an ear.
Of course one can always change the lens or use two cameras with two different lenses. That's the way I work. Yet, these situations show the advantage of zooms. Although, I am aware of the statement that the quality of fixed focal length lens is higher than the quality of zooms, I rarely have put it into my stuff bag. I use them still and appreciate much, and considering the longest ones there was simply no choice. Indeed we have 100-400 or 75-300 in system but when we compare them to 300 PRO and when we care about the quality we can only have fixed focal length lens. They differ totally. Today the situation has changed. A new lens has appeared and at once it becomes my favourite one.
The lens is surprisingly light as for its dimensions. This is the opinion of everybody who had it in their hands. Are you familiar with the feeling when lifting something up you are prepared to use much energy as it was something heavy but instead you lift something much more lighter so your hands rise up vigorously? That's how it is with this lens. Looks much heavier than it is so it surprises positively.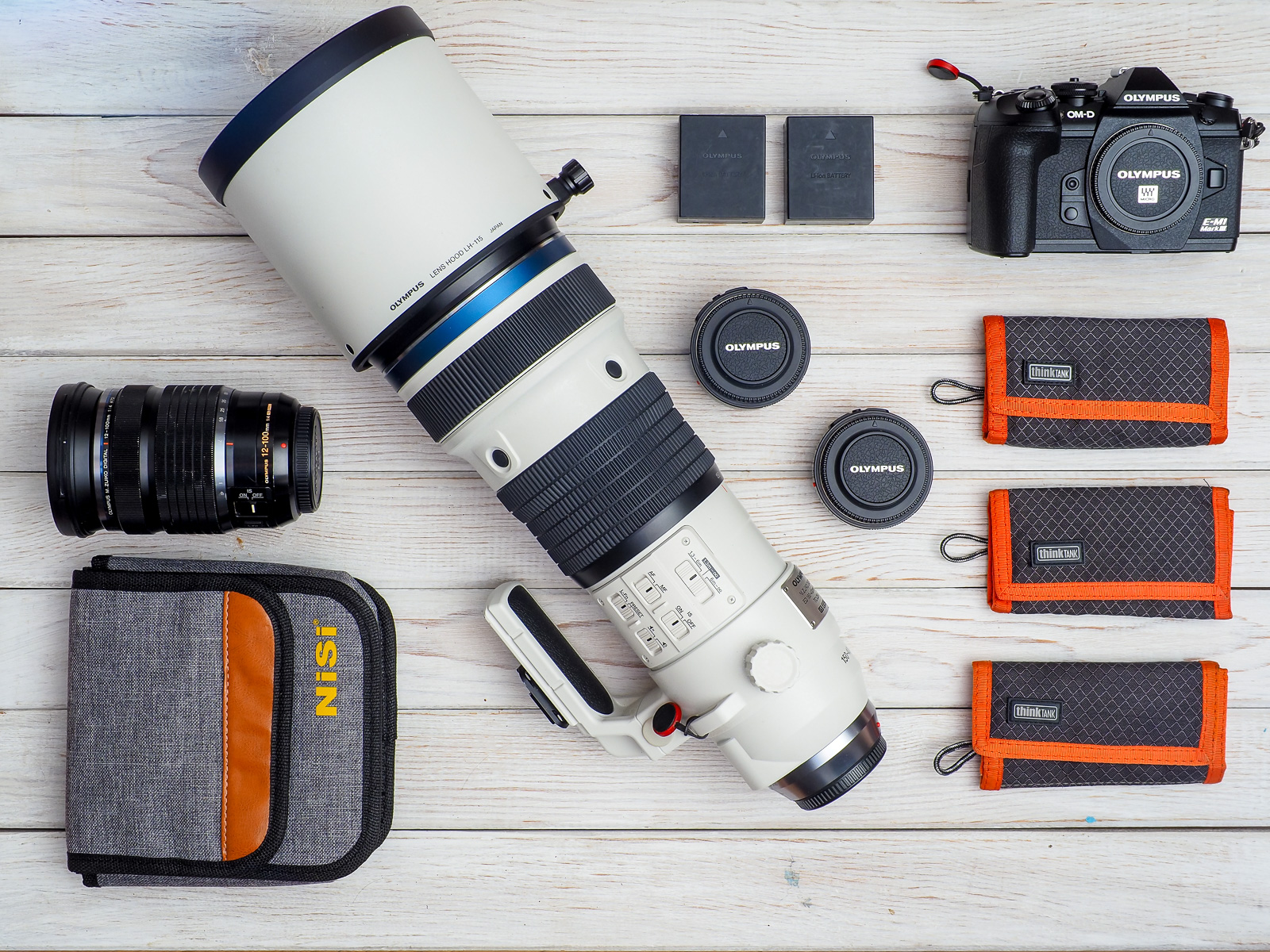 The colour is that catches the eye first. The first white lens in system. It is not only the matter of being fashionable or similar to the competing systems. This is the matter of basic physics laws. The key word is albedo – do not misunderstand with libido – the more light reflecting off an object the albedo is higher. And hence the objects heats up slower and harder in sunlight. This is the  reason for draftsmen to design it white. Nowadays there are many electronic components inside such lenses. The less they get heated up the better for flawless functioning. The first impression and first opinion is it's white and light :). Therefore photographers are interested in something more :).
CONSTRUCTION
Long-zoom with removable lens hood, non-removable footer (at least not removable easily). About the footer: like M. Zuiko 300 PRO, it has notches that make fastening compatible with ARCA  couplings. There are two loops for attaching a belt that is included. I installed anchor Peak Design myself so I can clip and unfasten the belt whenever I need.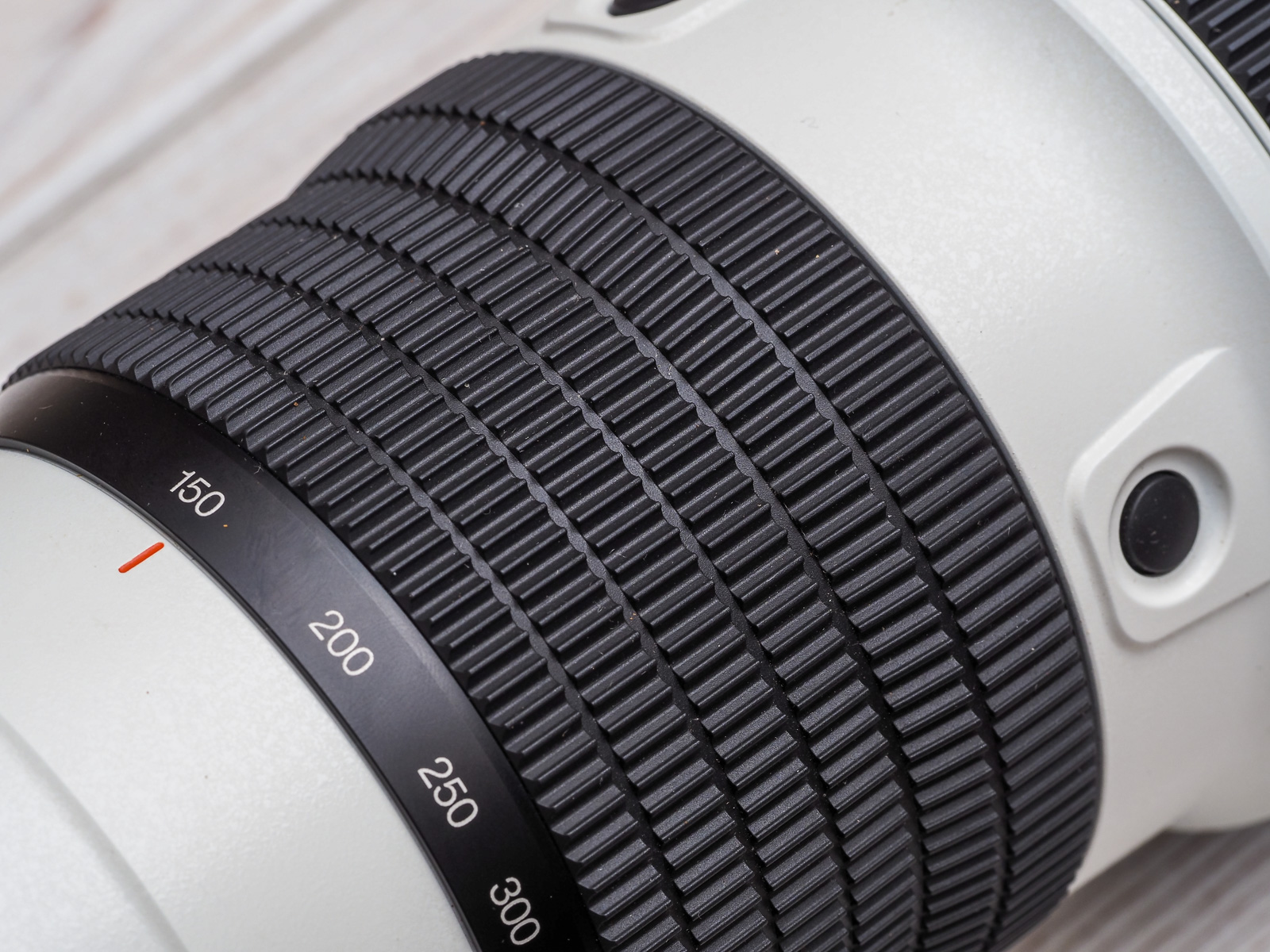 There's focus ring, black buttons placed between focus ring and focal length ring that are used for focus setting. There is more about it further in the text.
The lens has buttons placed on its body:
The first used for operating range. We have three ranges.
full; from 1.3m to plus infinity
close one; from 1.3m to 6m
distant; from 6m to plus infinity
Next one is the AF/MF switch. This lens is not fitted with possibility of sliding focus ring forward and backword, which was famous for PRO lenses. That's a pity because I'm used to it and this option is fast and simple. Instead we get AF/MF switch. Personally I prefer to move the ring than to look for a switch. Therefore I consider this solution to be worse than the moving ring.
Next one is for stabilization. It's IS ON / IS OFF. Not much about it because we have this switch already in other lenses so everybody knows what it is for.
L-Fn / PRESET is next one. It gives us the possibility of choosing a function button to which we assign a function from the body level, e.g.  the most ordinary customizable function button we already know from other glasses, or PRESET – the function that I mention in the text. It remembers the sharpness set so later we can return to it only by pressing this button.
The last one is the switch that I will probably never use 😉 A button for turning on and off the focus confirmation sound. Why will I never use it? Because all my cameras work in silent mode and I do not feel the need for turning on some annoying beeping with every sharpening.
The next switch we can find here is a shifter for turning on and off the installed converter. There is also a possibility of activating the lock against random switching while put the lens into a bag for example. This is a huge advantage since the situation when we take photos with a converter on is not easy to catch during our work in the range 190-400 mm.
Of course we would finally find out our converter is on, especially if we can see the info about it on the viewer, but anyway I consider this lock very important.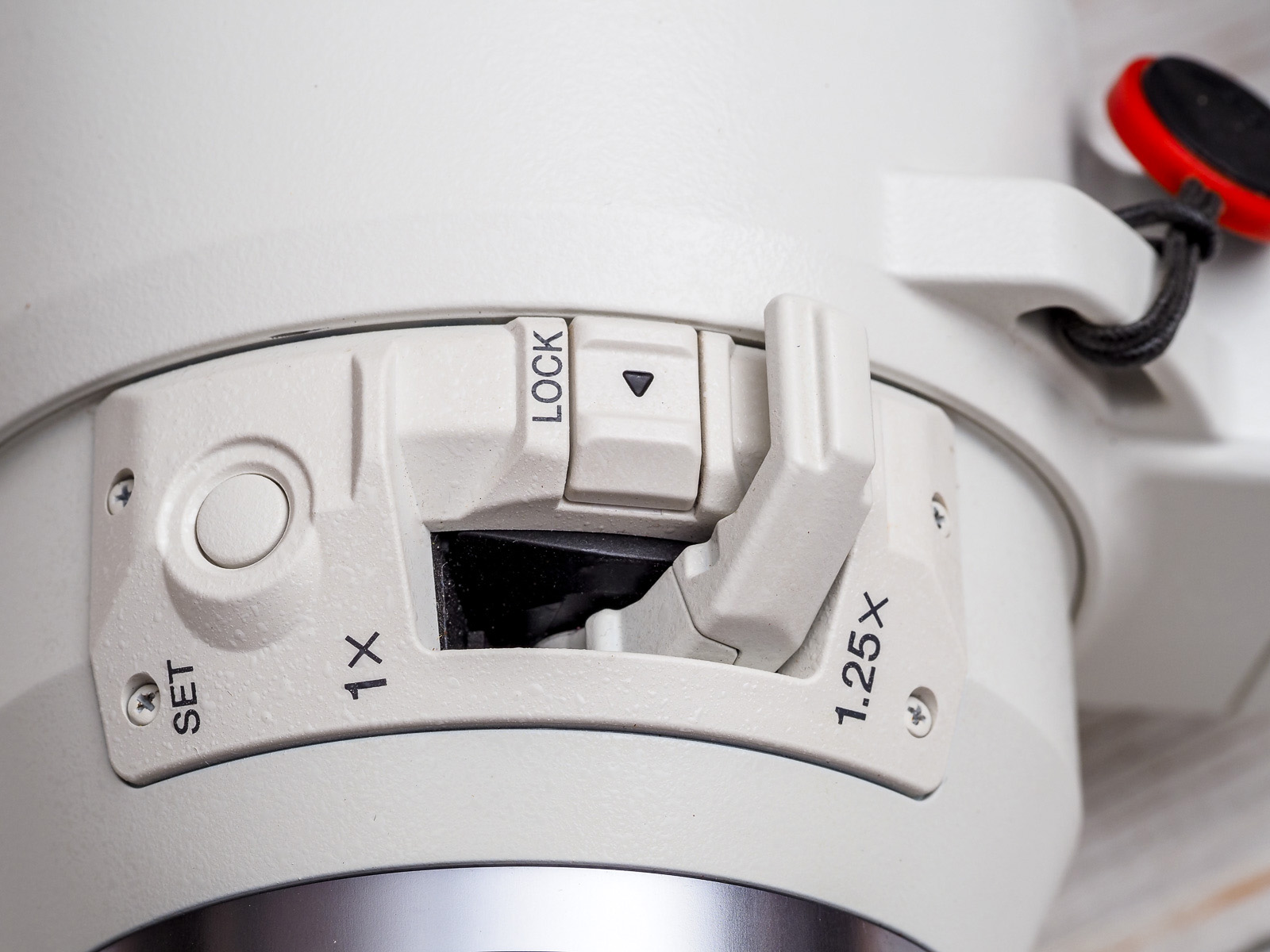 There has been written a lot about stabilization in Olympus cameras. The moment when Konica decided to set up the matrix stabilization instead of stabilization in lens, like in every other before, was a crucial moment in photography. Simple and genial solution that became an origin of something new.
Then, after years, both solutions started to be used: the one in a camera with this in lenses. So far when read the instruction we were obliged to decide whether we choose lens stabilization or matrix one. Nowadays in Olympus cameras both of them agree, work together and help each other giving us incredible possibilities and very long exposure times to hold in hand.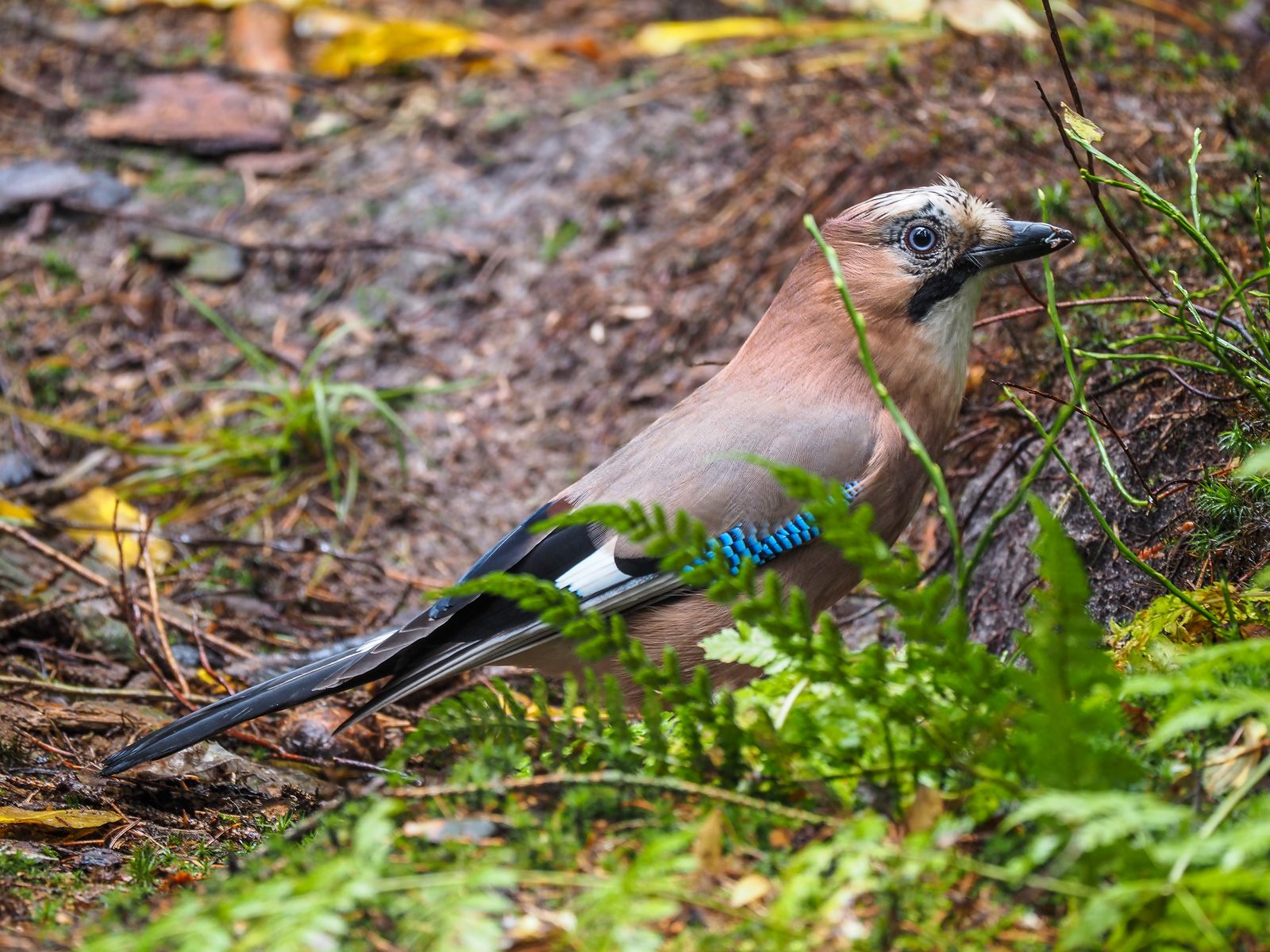 There has been written a lot about stabilization in Olympus cameras. The moment when Konica decided to set up the matrix stabilization instead of stabilization in lens, like in every other before, was a crucial moment in photography. Simple and genial solution that became an origin of something new.
Then, after years, both solutions started to be used: the one in a camera with this in lenses. So far when read the instruction we were obliged to decide whether we choose lens stabilization or matrix one. Nowadays in Olympus cameras both of them agree, work together and help each other giving us incredible possibilities and very long exposure times to hold in hand.
Not once, while light condition is insufficient, I am able to take a photo with 200 sensitivity instead using 12800. Of course it needs trials, training and experience but then the effect is surprising.
Sufficient stabilization in 150-400 lets me doing Hi Res hand-held The picture is not a single photo but a conglomerate of single photos taken with a camera. This solution itself has been already known for professional cameras with big matrix like Hasselblad and a function called Multishot which was presented probably a decade ago. A camera is taking series of photos by moving the matrix and fulfilling the gaps among pixels. Thanks to this, we get a photo with an unbelievable number of details for such a sensor that we have. It is not an approximation because we can do it without using a camera… It is a photo taken normally. Well, maybe not quite 'normally' but almost…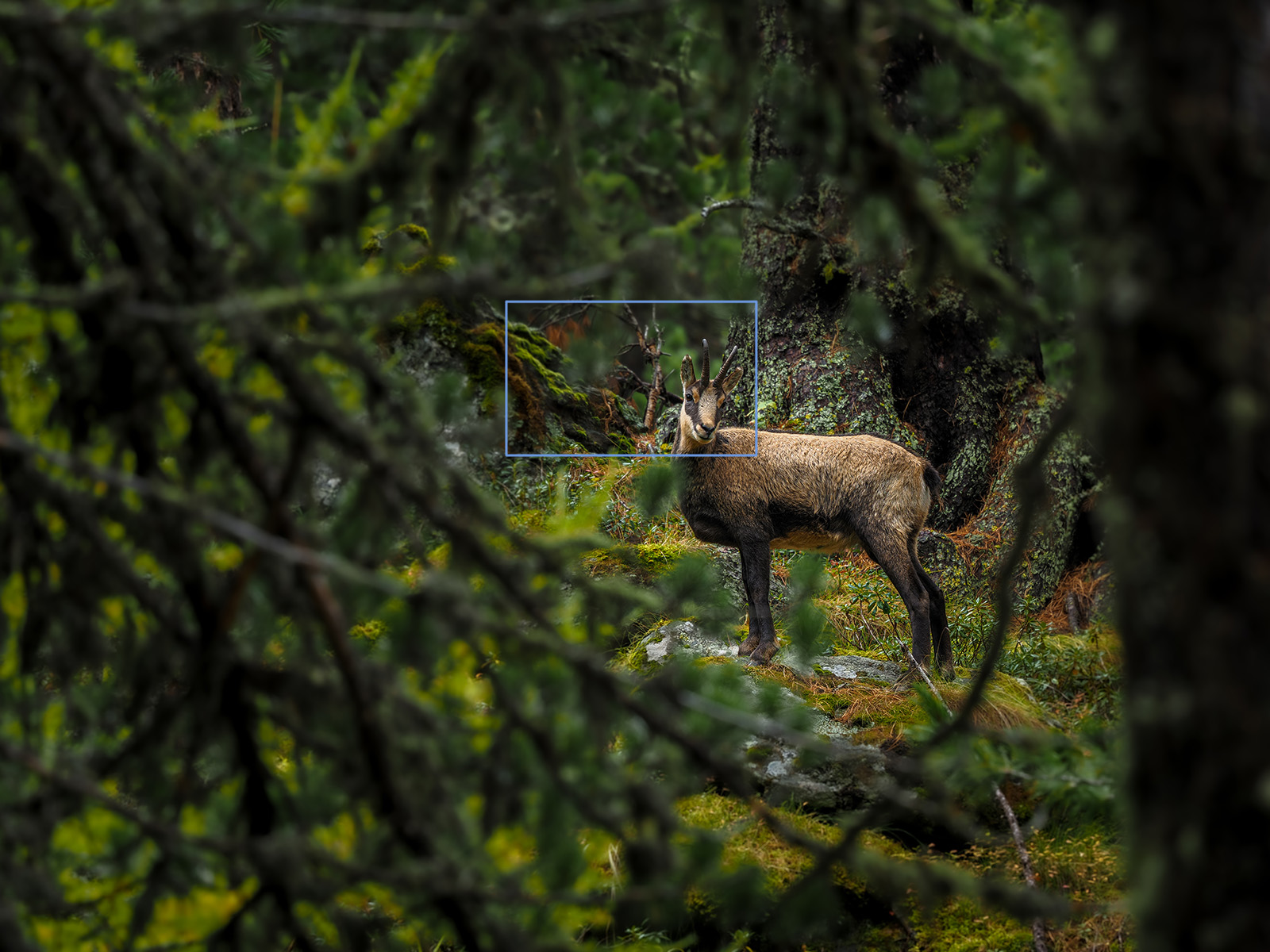 E-M1 MarkIII + 150-400 @250mm 1/100 f/4.5 ISO 200 hand held HIRES
While hi-res from a tripod when taking a landscape photo is not surprising because for this it is created, the hi-res of an animal made hand-held is something interesting.
I remember, before my trip to Sri Lanca with a new body, one of my friends' photographers said with disbelief and irony that he would like to see hi-res from the forest where the leaves match. Since then I have taken a great number of photos of that type. But this time I was tempted to take high resolution animal photos at a long focal length. The result I consider as very good. From a 20 Mpx matrix I can get 80 Mpx photos in TRIPOD mode, and 50 Mpx in HAND mode.
The issue of sealing does not surprise either. I have been taking photos in the Shetlands Islands lying among seals, as well as in Alps during such a great downpour that my sealed iPhone hidden in a pocket got wet so badly that stopped working. But also in Polish woods when I was coming back soaked completely.
Everything worked perfectly, both the camera and the lens. My only concern is the converter lever in the lens. Although it is not a weak point of the lens when it comes to water, I have some concerns if when photographing in really difficult conditions, this is not a place that can get clogged with mud. On the other hand when being on a Scottish beach I had all my stuff soiled with sand and the only thing I did was to blow the sand after it got dried. If I was to judge the weakest point of this lens this is exactly it.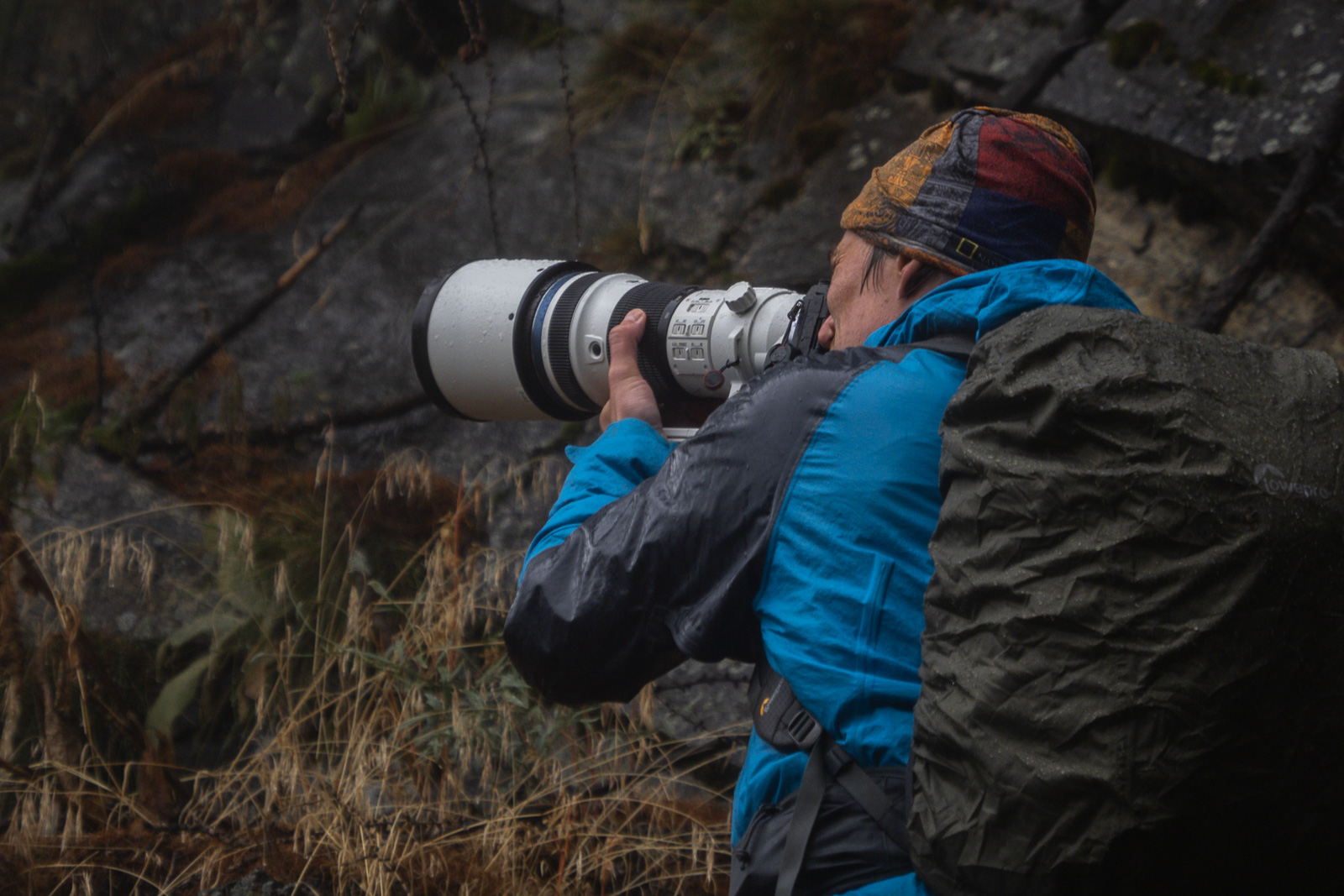 Autofocus works insanely. Along with the lens, a new firmware for cameras appeared. Thanks to it we have support for the lens 150-400 and AF works quickly and reliably, even with a connected converter 2x and an enabled built-in converter. So, with a focal length of 1000mm you cannot fault the AF work. This is precious as I myself witnessed how many photographers used top lenses with converters for other system and suddenly turned out that the autofocus stopped working completely or only one AF field worked at best.
In turn, along with the software upgrade, E-M1X received a new type of intelligent autofocus, i.e. bird recognition. The camera 'itself' recognizes a bird, and then finds its head and focuses on it. I tested it many times and I'm impressed by its work in this mode. Working is fast, confident and so we stop thinking of it.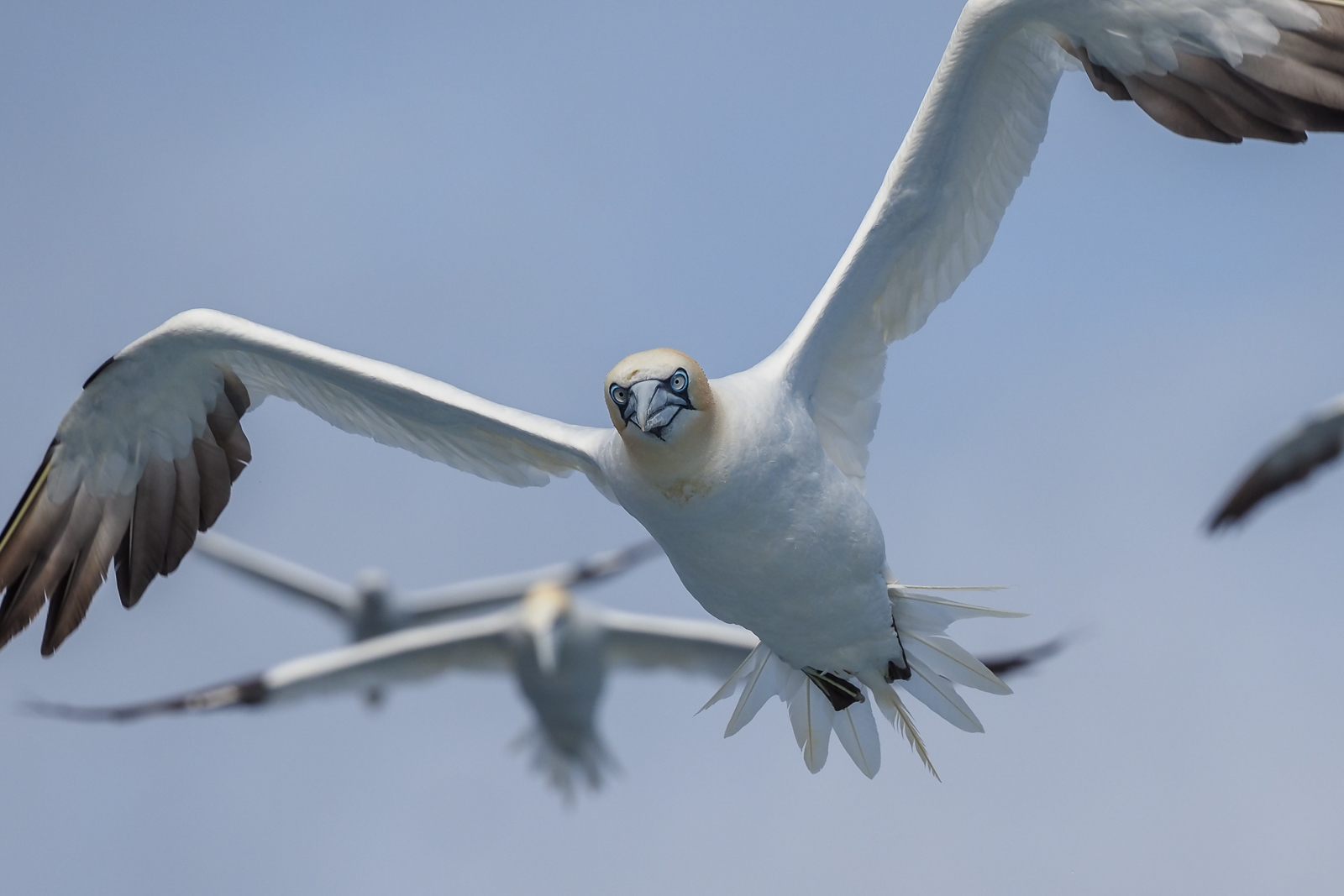 OSTROŚĆ


Let's start with a series of photos to somehow diversify your reading.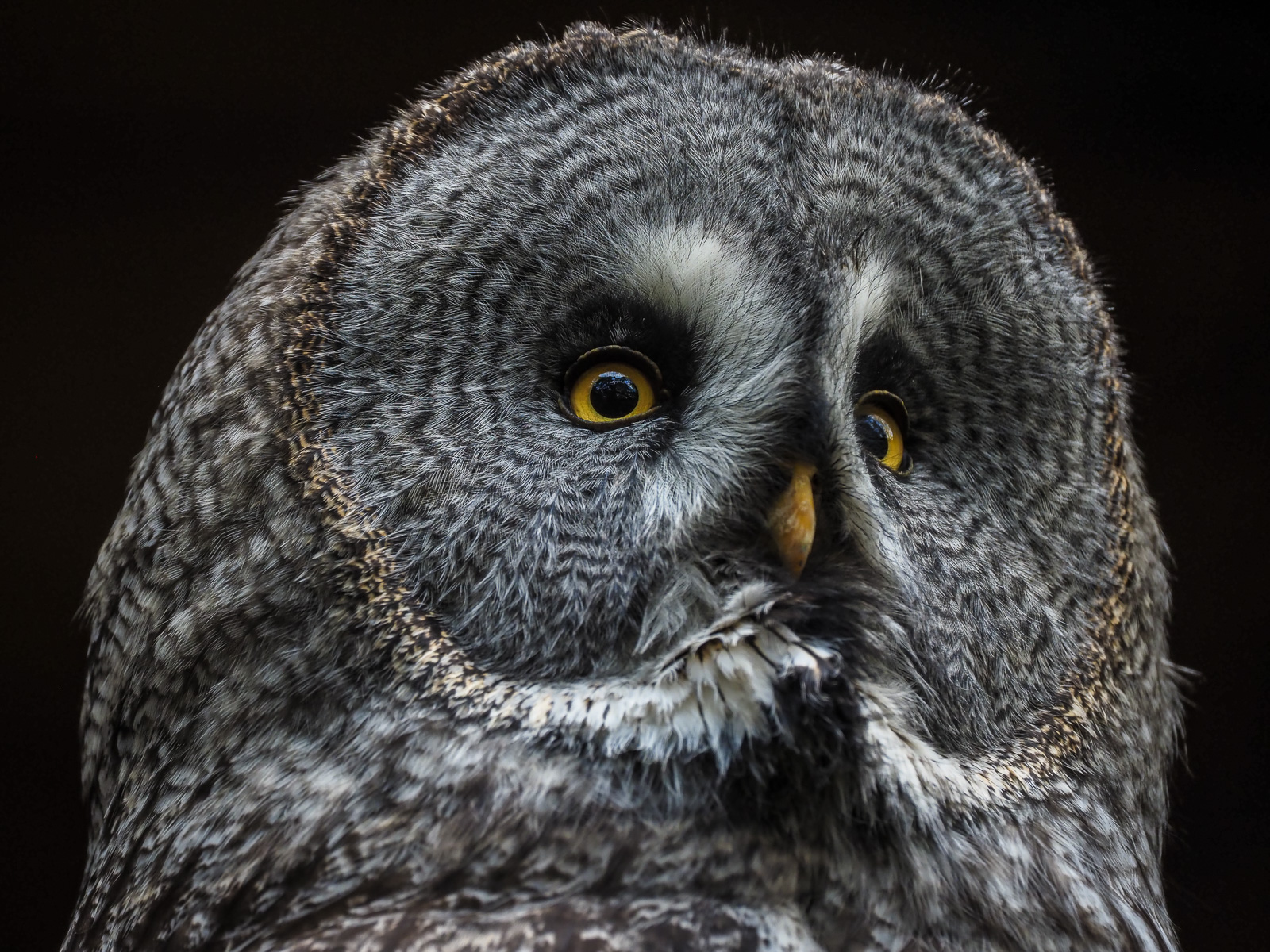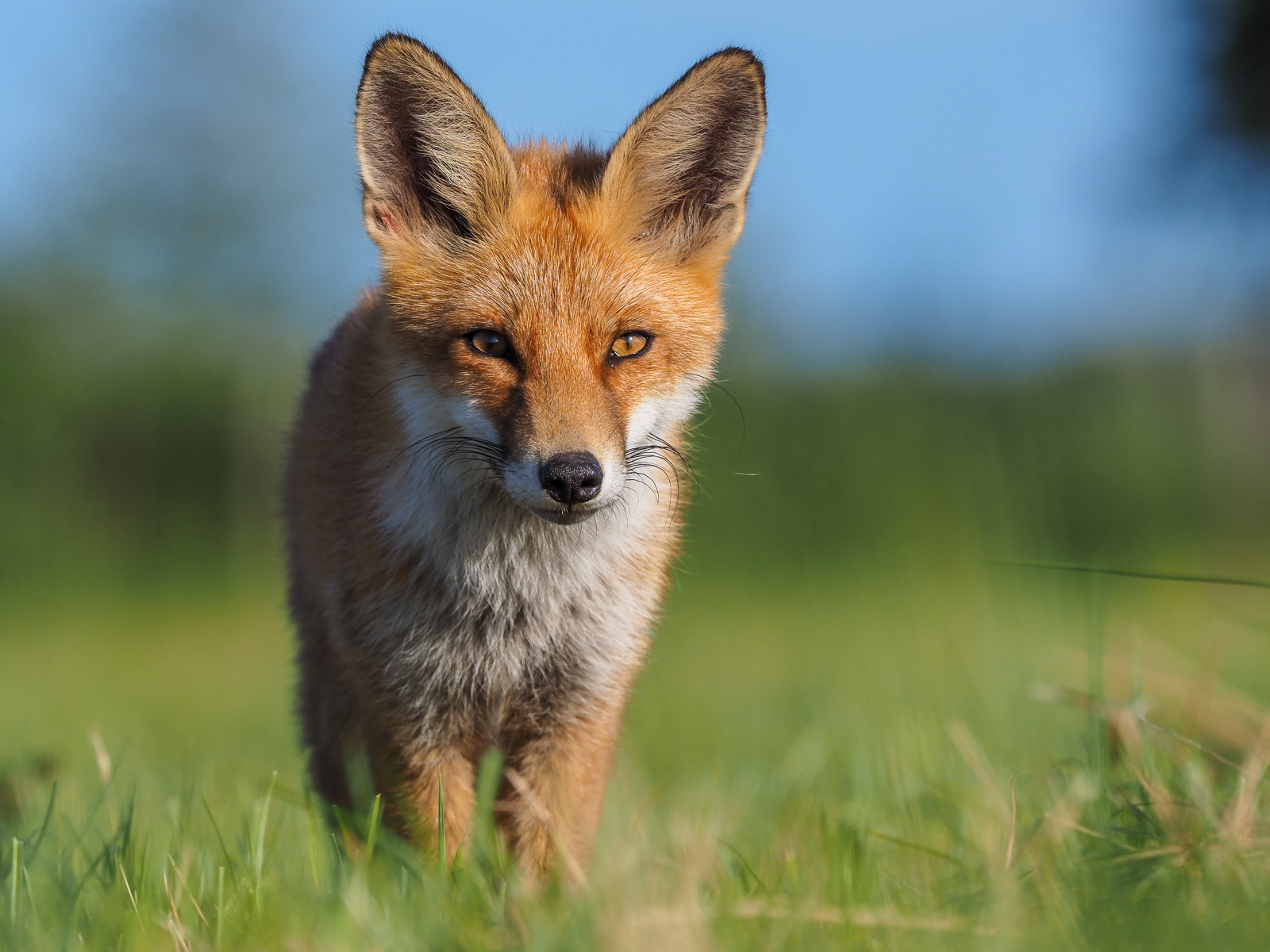 E-M1 X + 150-400 @400mm 1/3200 f/5 ISO 640 hand held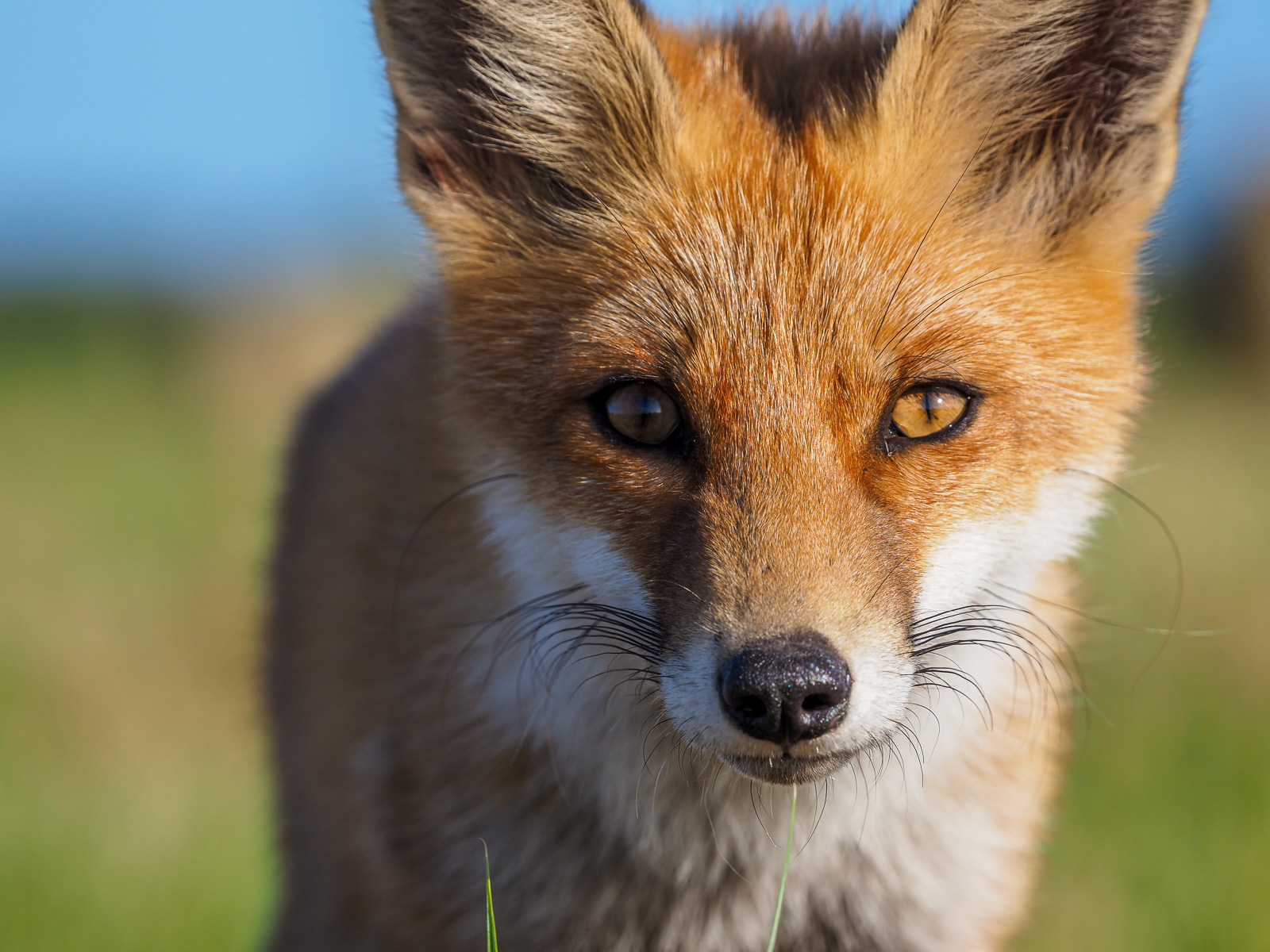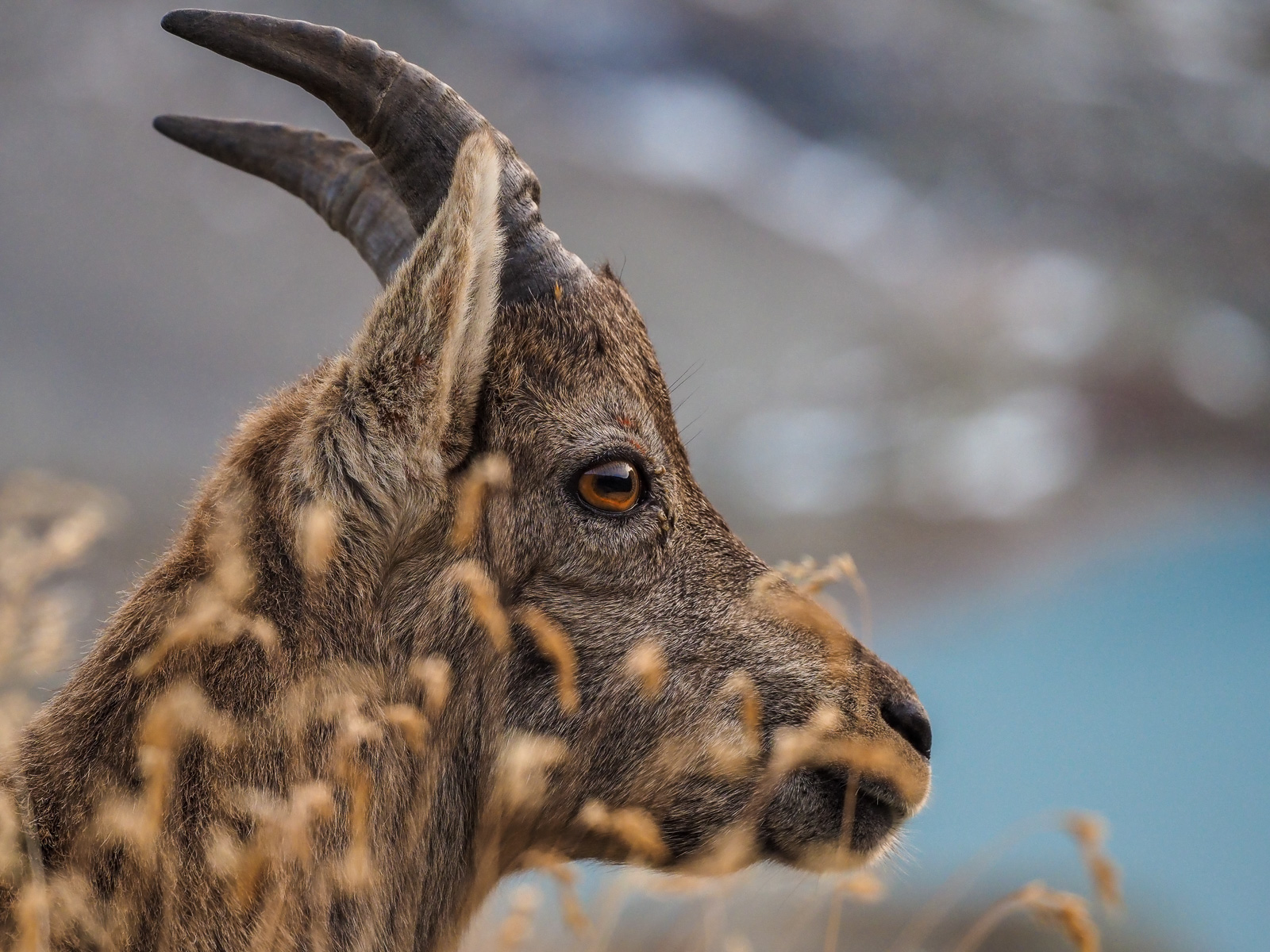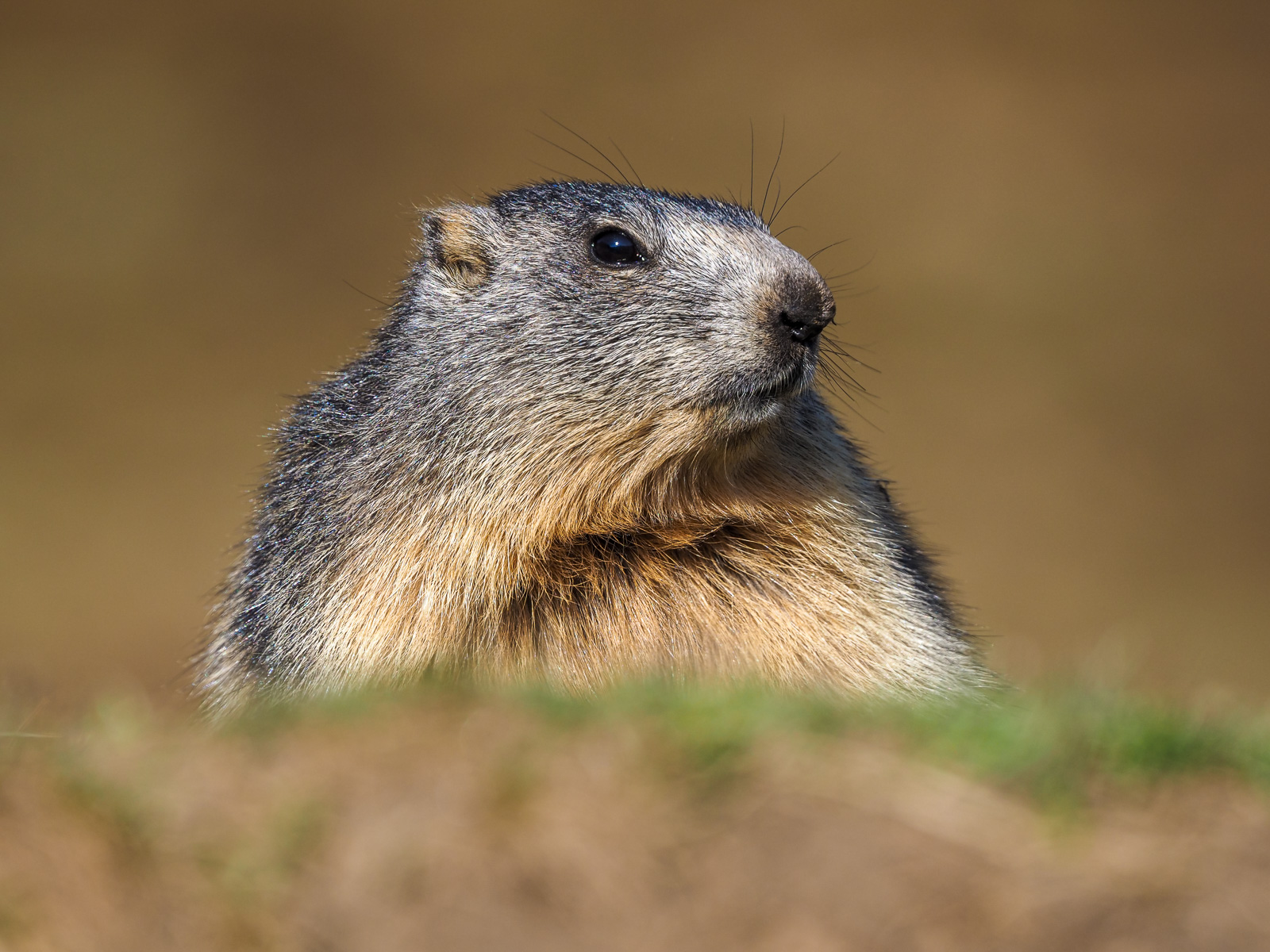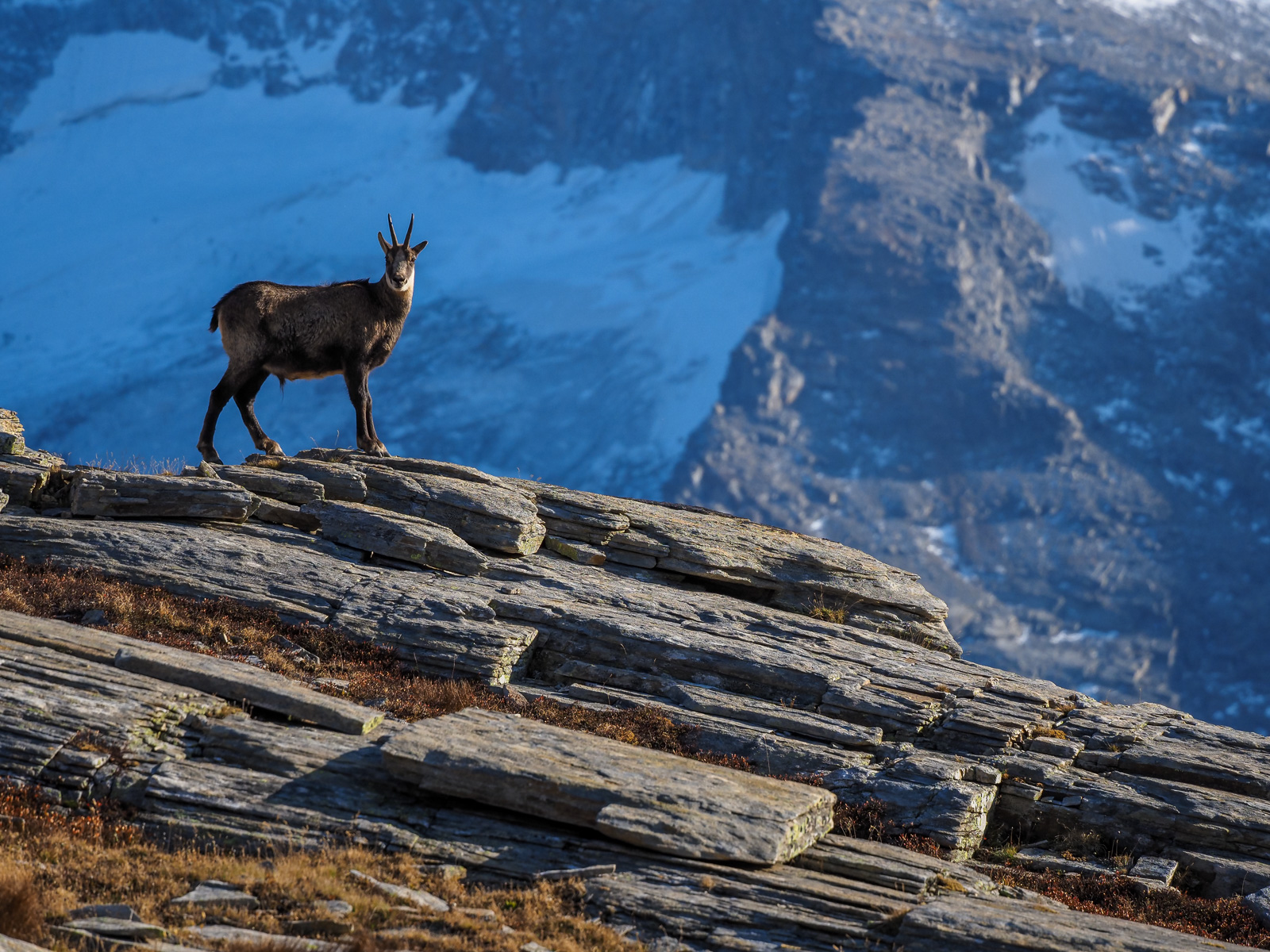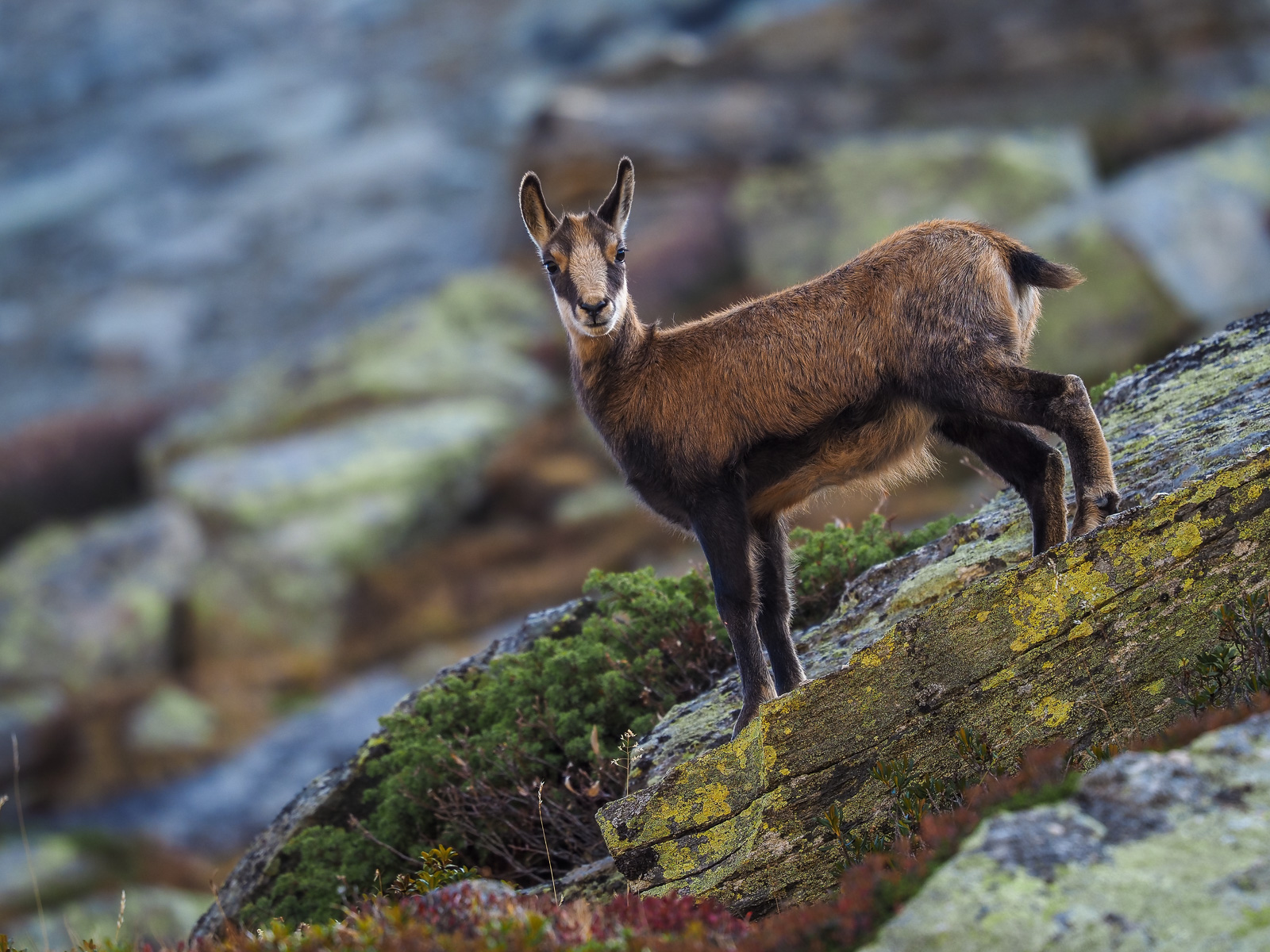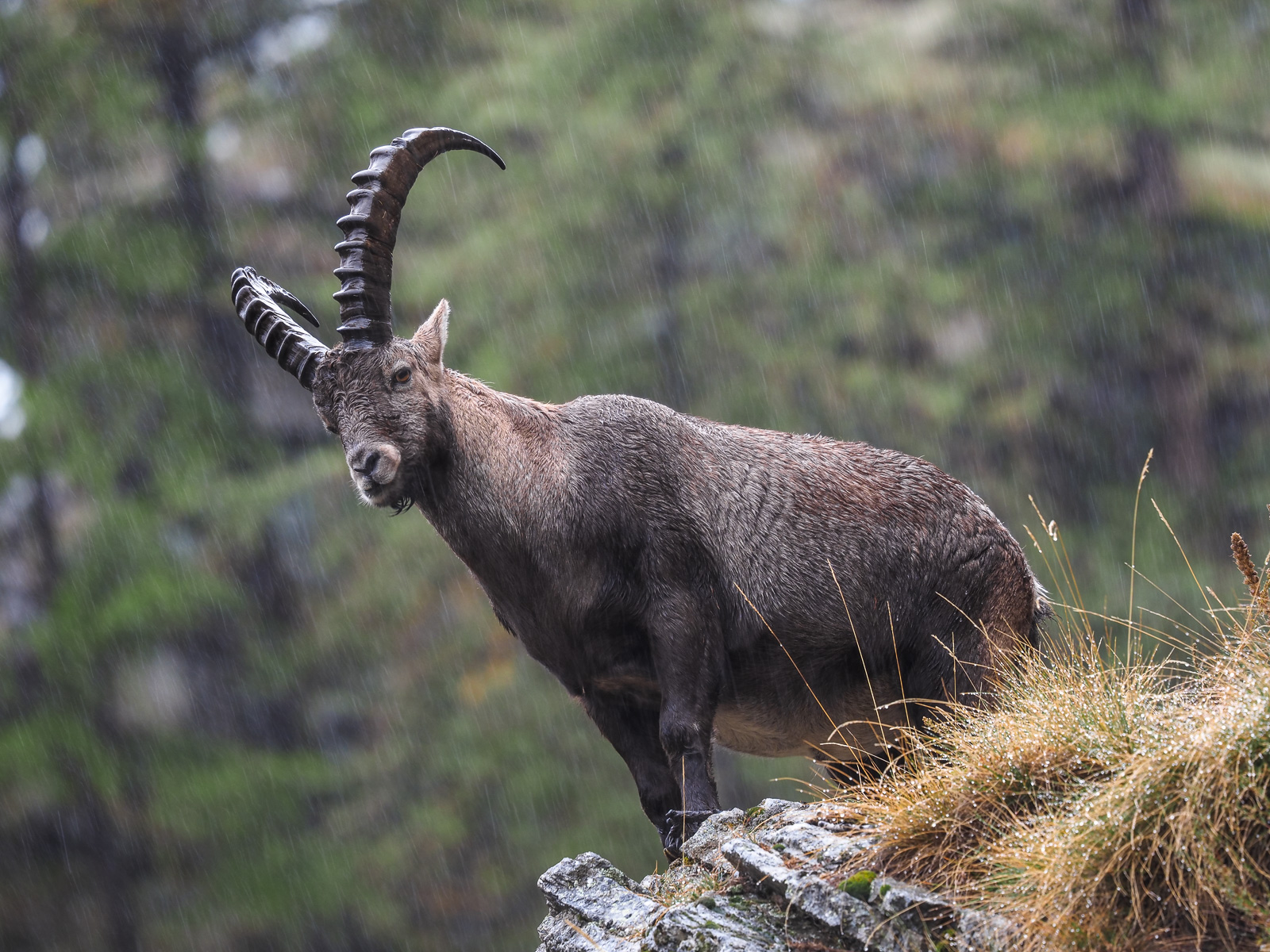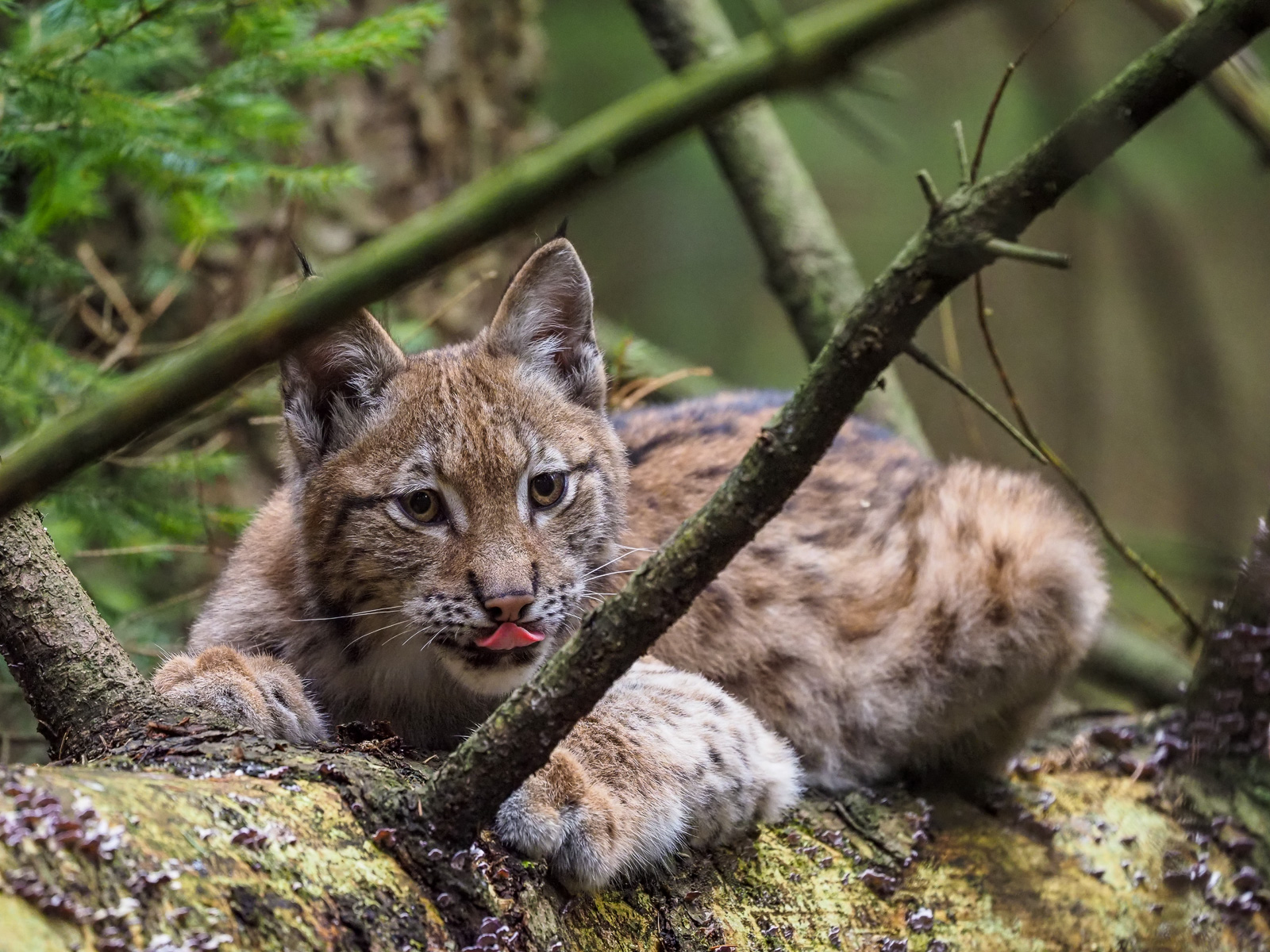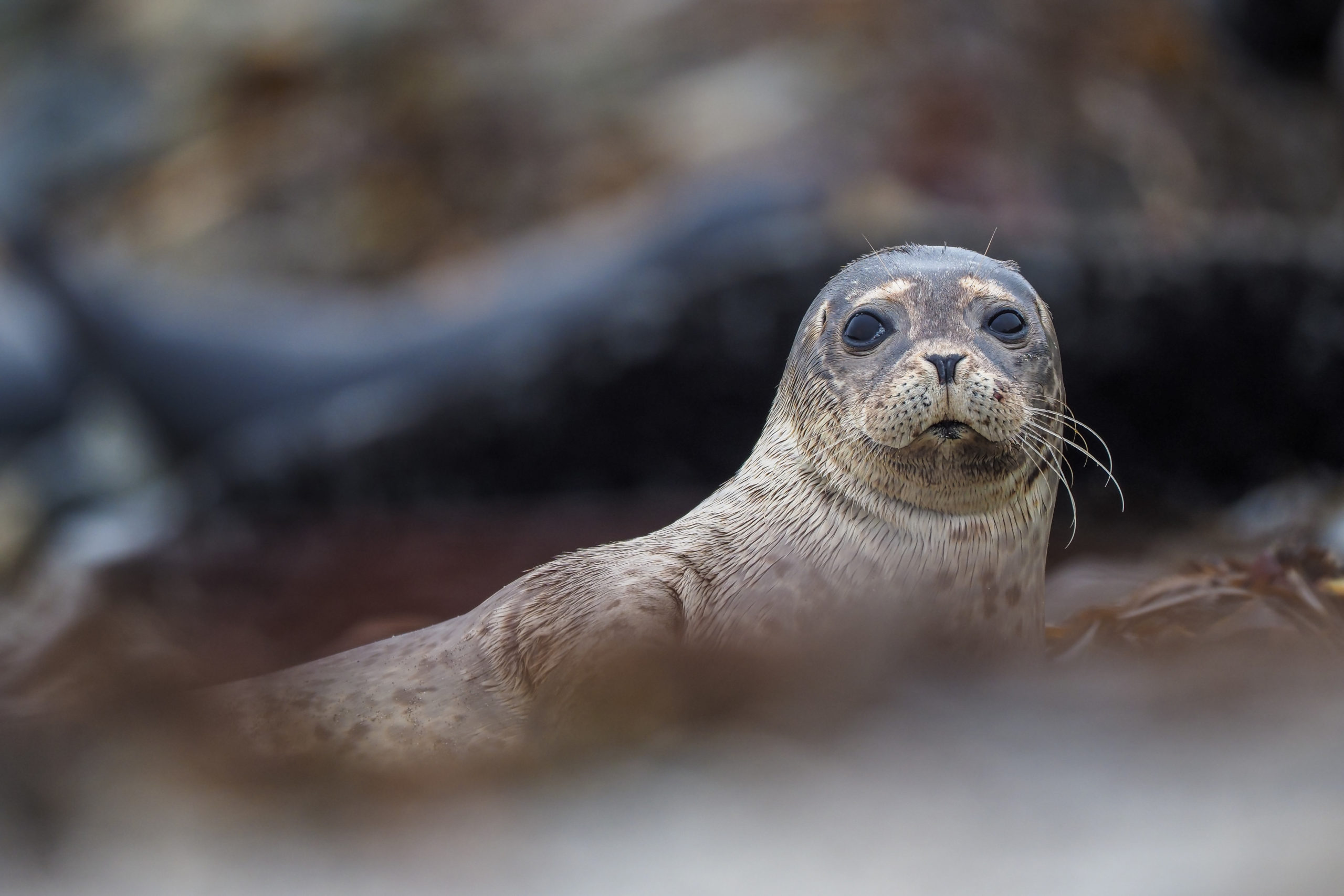 If you look at these pictures I think it won't be a surprise what I say. The lens is extremely sharp. Compared to lower-end lenses, the difference can be seen even on the camera display. I have the impression that the sharpness exceeds 300 PRO or 75 PRO. These are obviously a subjective impression made by a photographer. I do not deal with laboratory analysis of lenses so let's leave it to specialists and wait for some numbers and charts.
My conclusions on this are purely subjective, based on a comparison to the glasses I know and I use.
Optically I have nothing to complain about this lens. Nothing. It draws very nicely from the full aperture. Works as it should, or better, against the light. Vignettes I do not notice, since the RAWs are corrected at lens level, this problem also begins to disappear. Photos are fantastically sharp. Generally all is positive.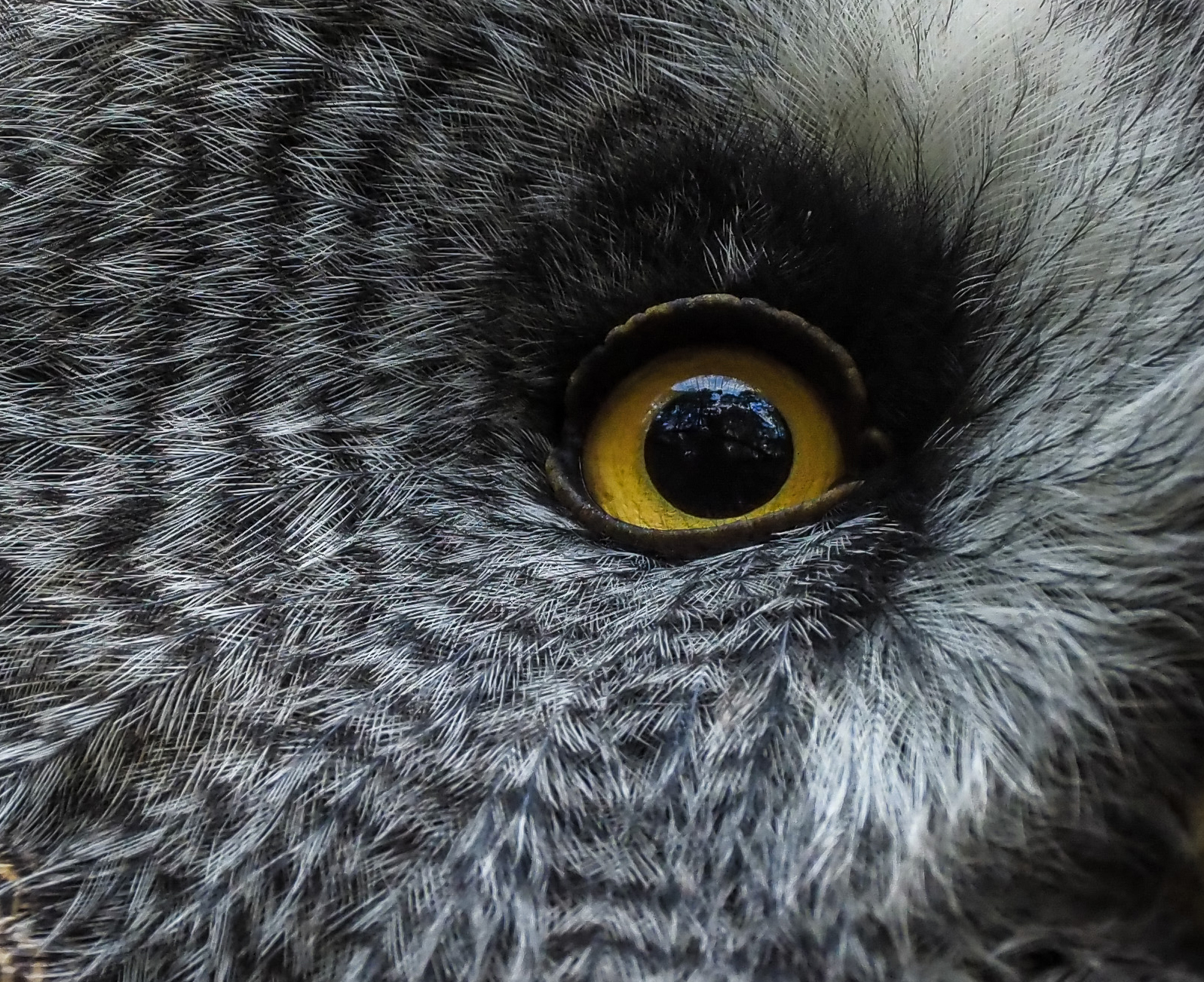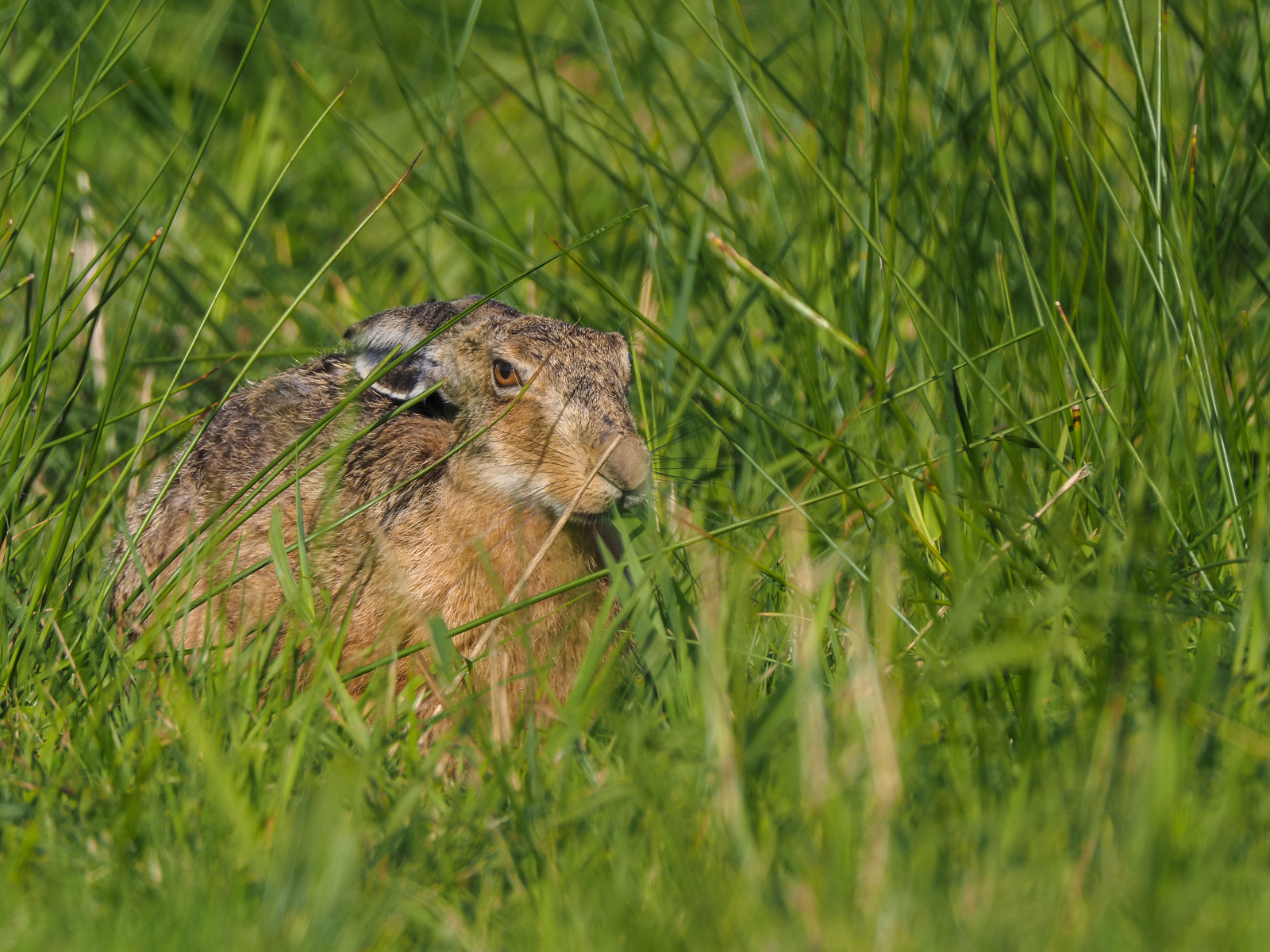 First converter 1.4x MC-14 appeared as designed for cooperation with M. Zuiko 40-150mm. Then the 2x MC-20 converter appeared and each one is fully compatible with M. Zuiko 150-400 PRO. Using the built-in converter in the lens and the attached MC-20 converter we get a focal length of 1000mm and the angle of view of the lens is the same as in a lens with focal length of 2000mm for full frame.
Of course we have to remember that there is a reasonable limit for useful focal length. This focal length is much. So much that in most weather conditions all imperfections in the atmosphere can be seen. If it is not a cold winter, then we can see heaving hot air that distorts the image. All dust in the air also begins to be visible and we must remember about it according to the principle that if your photos are not good enough, it means that you are not close enough. You should remember about this when you decide to use a lens with a viewing angle of about 1 degree. So the question arises whether the subject of teleconverters at such a focal length is so crucial for a photographer. I think the built-in converter is the best solution because it is designed with such an optical system in mind. However, if we need to extend the focal length of our lens, we have converters 1.4x and 2x.
CHROMATIC  ABERRATION
In both JPGs and RAWs, I did not notice any problems with the chromatic aberration. Regardless of the focal lengths I have worked on, the problem does not exists. This is probably a matter of correct lens correction and camera software. Even in the photos where it would seem that due to the frame of the picture aberration should exist, it is impossible to find anything. It should also be added that the development of raw software over the years has advanced so much that removing aberration today is trivial. We have algorithms for this, buttons in applications or appropriate sliders.
AUTOFOCUS PERFORMACE
The AF is phenomenal as for a very long lens.  Of course, the firmware upgrade in the body must be done beforehand. The AF is not only fast, but also very unerring and precise. Of course, with so many possibilities of autofocus configuration, the number of errors depends on the human factor. It is our responsibility to correctly select the type of focusing. Fortunately, this cannot be avoided and it is up to the photographer. It is worth using the distance switches on the lens because thanks to this we are able to accelerate the AF work even more.  A very useful thing that I used quite often were the buttons on the focus ring. We have the ability to remember the distance at which the focus is set and then set it again immediately after pressing any of these buttons. For me it is irreplaceable function when photographing an animal hiding behind branches, leaves or bushes. Without this feature, the focus would very often be set to the leaf in the foreground. But every time this happens I press the button and restore the focus distance to the one I set earlier, i.e. the animal. Bokeh is very pleasant, not nervous and what is not surprising with such brightness and focal length, it is easy to get a shallow depth of field. Of course, we come back to the topic again whether a shallow depth of field helps or disturbs. In the case of nature photography, a greater depth of field allows for easier work. If I focus on the eye, the eye is sharp, not just a piece of the eyelash.
WORK AGAINST THE LIGHT
The lens has a removable lens hood that can be turned and put over the lens. As I have a small photographic backpack, I hide the lens without the cover and kept it in another backpack pocket. If there is no bright light and it is not raining, you can successfully use the lens without it, but remember that it is also a good form of protection for the front lens in case of a fall. The lenses are covered with an anti-reflective coating that reduces flares and reflections. It works great throughout the entire focal range.
The best, the sharpest and coolest nature photography lens in the system. Even if we compare it with the 90-250 from the E-system. Seals, very efficient stabilization, insane AF, built-in converter, distance switch and recalling the previously remembered focus point and the possibility of changing the focal length in such a range, all this means that we are dealing not only with a good lens but with a very thoughtful construction that meets the expectations of the most demanding users.
The only thing I regret is that our times are what they are. Due to pandemic, I had to give up many assignments and trips. I would like to use this lens in the Arctic or Antarctic. I planned to photograph African wildlife, but I couldn't enter South Africa either. My flight to Spain was cancelled after Madrid was quarantined. The advantage, in turns, is that thanks to this I spent a lot of time in Polish woods and I was able to take a photo of a lynx.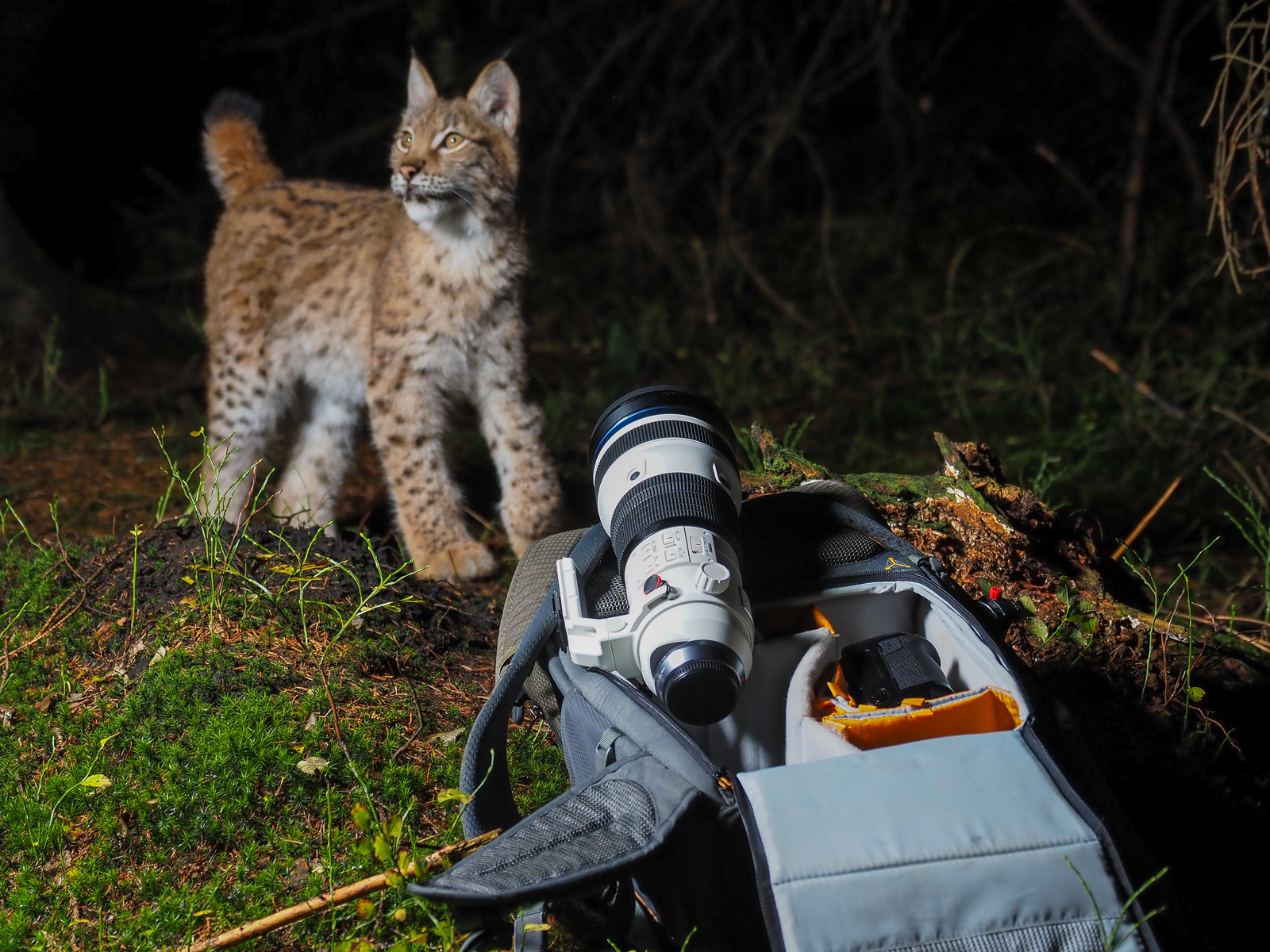 There is no point in discussing the subject of price because it is a pointless discussion and the price is always a contractual thing. The product is worth as much as some people are willing to pay for it. One would say that Octavia is too expensive, another that Tesla or Maserati is within their reach. Someone estimated the price, counted it and analysed it.
But if you compare that lens to Nikon AF-S NIKKOR 180-400 mm f/4E TC1.4 FL ED VR (around 12.000 EUR) or to Canon 200-400 mm f/4.0 L EF IS USM (around 12.000EUR) price is not so bad. I am able to say one thing: this is the best lens in the history of Olympus.
Please follow me on my social media: Facebook Page, Instagram